Regular price
Sale price
$19.99 USD
Unit price
per
Sale
Sold out
Elegance Redefined: Natural Seawater Baroque Petal Pearl Necklace
Introducing our exquisite Natural Seawater Baroque Petal Pearl Collar Chain—a stunning fusion of nature's beauty and elegant design. Handcrafted with care, this necklace showcases the timeless allure of seawater pearls in a unique irregular shape, reminiscent of delicate petals.
Unique and Organic: Seawater Pearl Necklace in Stunning Petal Shape
The pearls, classified as seawater pearls, boast a lustrous pearl white hue that adds a touch of sophistication to any ensemble. The irregular shape of the pearls, ranging from 5mm to 6mm in diameter, creates a captivating and organic aesthetic that sets this necklace apart.
Sophisticated Simplicity: Pearl White Collar Necklace with Copper Accents
Crafted with high-quality copper accessories, the necklace features a customizable perimeter ranging from 41cm to 50cm, ensuring a perfect fit for any neckline. The pendant itself is exclusively composed of these enchanting baroque pearls, adding a touch of natural elegance to your look.
Gifts of the Sea: Exquisite Seawater Pearl Collar Chain for Her
This Natural Seawater Baroque Petal Pearl Collar Chain is not just a necklace; it's a work of art—a thoughtful gift for special occasions like birthdays, Mother's Day, or to celebrate the unique bonds with your girlfriend, sister, grandma, or mother. Elevate their style with a piece that effortlessly blends classic charm with contemporary flair. Give the gift of timeless beauty with this enchanting pearl necklace—a symbol of love, appreciation, and enduring elegance.
Packing list:
Pearl necklace X1 pieces
Product Image: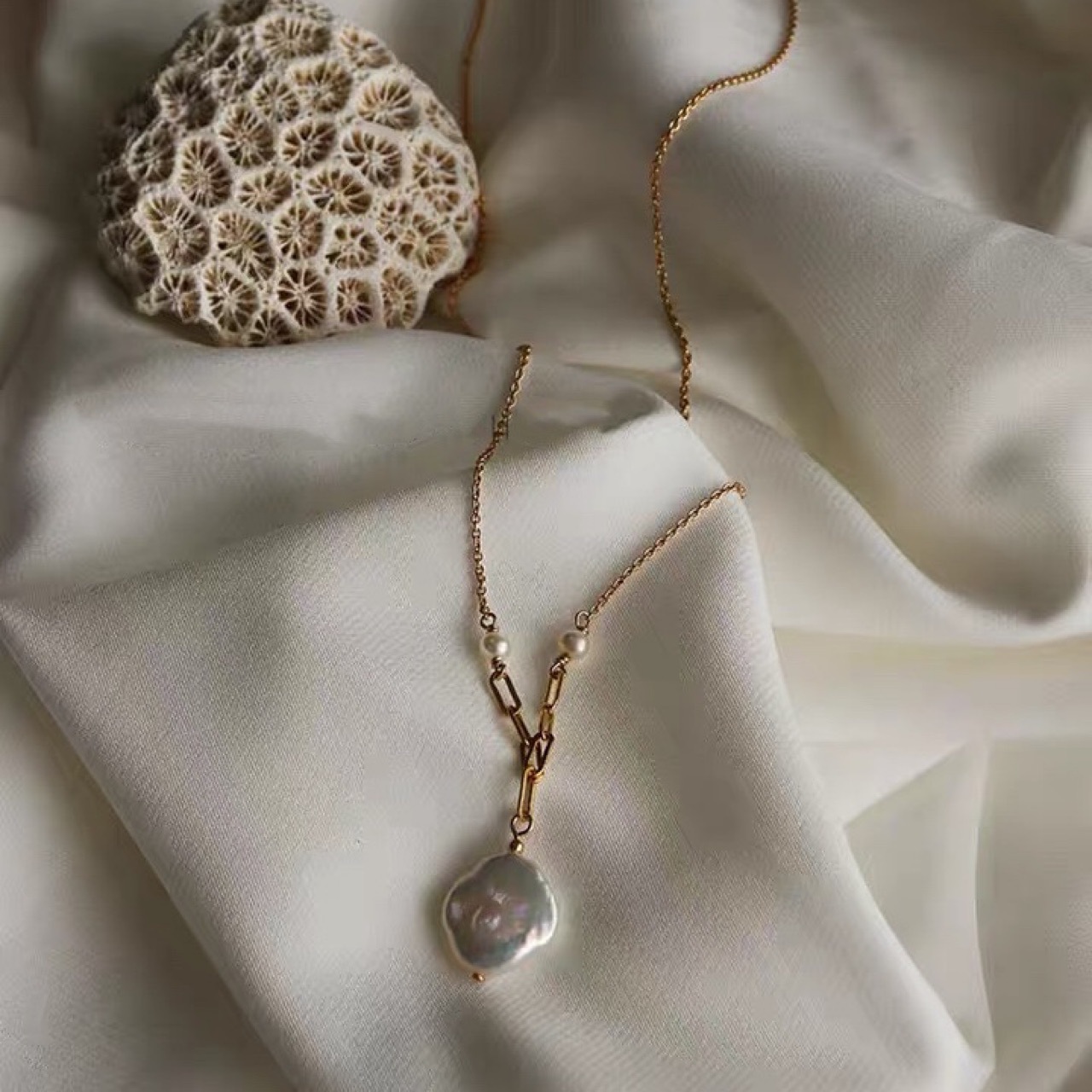 Share
Materials

Product information:
Product Name: Natural Seawater Baroque Petal Pearl Collar Chain
Material: copper
Pearl classification: seawater pearls
Pearl shape: irregular
Perimeter: 41cm (included) -50cm (included)
Pearl diameter: 5mm (included) -6mm (not included)
Pendant Material: Pearl

Production & Delivery Time
View full details